This is my body… This is my blood…
The Mass is the sacrament in which the people of God gather around God's table, the Altar, to celebrate his real and true presence with us and his ministry amongst and through us. The Mass is sometimes referred to as the Lord's Supper, Holy Communion, or the Eucharist.
To speak of the Lord's Supper is to remember the Last Supper before Christ's crucifixion: to remember that when we gather at the Lord's table we receive the sacrifice of Christ, Christ's gift to us of himself, given to make us whole.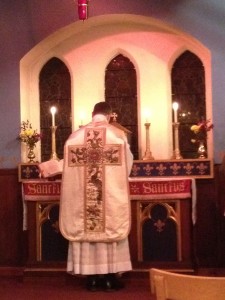 To speak of Holy Communion is to focus on how we are invited into (comm)unity with Christ and with each other: how we are called to be the body of Christ, not just to partake of it.
To speak of the Eucharist is to express our gratitude and joy at God's gifts to us in creation and salvation.
To speak of the Mass, from the Latin mitto, to send, is to honour our call to mission, as God sends us out, fed and sustained by Christ, to transform his world.
At Holy Innocents, the Mass is the most important thing we do every day. The Mass is the most important part of our common life together as Christians and we encourage all to come to Mass each day of the week.
Mass times
We have a Sung Mass at 10am every Sunday throughout the year. This is the main service in the week to which all are welcome. We also have regular weekday Masses. For details of all our services, please see the latest News Sheet.
Sundays
10.00am Sung Parish Mass with Children's Activities
Mondays
10.00am Mass in the Lady Chapel
Tuesdays
7.30pm Mass at Holy Trinity
Wednesdays
10.00am Mass in the Lady Chapel (with Laying on of Hands and Anointing on the first Wednesday of the month)
Thursdays
7.00pm Mass in the Lady Chapel
Saturdays
10.00am Mass in the Lady Chapel
All are welcome to come to any of our Masses. All practising Christians who receive in their own Church are welcome to do so here. If you do not receive the sacrament then you are invited to come for a blessing during the communion.