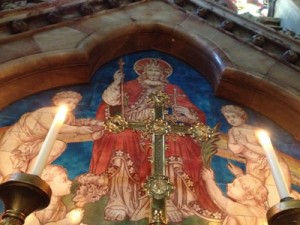 We are an Anglican Parish Church serving Hornsey and Crouch End. We are a church within the Diocese of London which is part of the Church of England.
The congregation of Holy Innocents, like the local community around us, is made up of people whose origins stretch across the world. Whether you are new to the area and wondering where to go to Church, or perhaps finding out about faith, or simply interested in finding out more about our Church and Parish, we welcome you to our website and look forward to meeting you in person at Holy Innocents.
We welcome people of faith, those who are seeking faith, and those who are beginning to hear or hear again God's love in their lives. We believe that through worship, study and discussion, fellowship and mutual support, we will grow in understanding and faith.
Worship
The main activity we do at Holy Innocents is worship the living God as Father, Son, and Holy Spirit. All are welcome to join us in worship at Holy Innocents! Our services can be described as Catholic in style, although this is done in an unfussy way. With a long history of worship rooted in the Anglo-Catholic tradition, we worship the Lord in the beauty of holiness. Our services are made accessible to all people.
For many people – especially those who commute in to central London – the mass at 10am on Sunday is the best time for worship and this includes HI Kids Sunday school for our younger members.
To find out more about our services, please see our services pages.
A unique relationship with Holy Trinity
Holy Innocents is linked to Holy Trinity Stroud Green.  We have a a special relationship whereby we are able to enjoy worship and fellowship together. All of our events are shared and are seen as joint parish activities.
Our clergy and staff all work together as part of a team.
The Daily Offices of Morning and Evening Prayer and the celebration of the Mass are central to our common life together.
The Story of Holy Innocents
The church dates back to 1876. If you would like to know more, please read a short history on the church here.