Our services are at the centre of our parish life, and the Mass (also known as the Eucharist or Holy Communion) is the most important
part of our common life together. Our Sung Mass with a Sunday School is offered on a Sunday at 10am and is our main act of worship within the week. We encourage children to come and to take part in our Masses, and there is educational provision for children during this service with activities for younger children and toddlers.
Holy Innocents is within the Anglo-Catholic tradition of the Church of England. We seek to worship God in the beauty of holiness. Our services are ritualistic and offer space for quiet contemplation as well as rejoicing. If you would like to know more about our worship, the best way is to come along to a service and experience it – and talk to Fr Ben or another member of the congregation.
Weekly Service Times
Sundays
9.15am Morning Prayer
10.00am Sung Mass
4.30pm Evening Prayer
5.00pm Contemplate
Mondays
7.30am Morning Prayer at Holy Trinity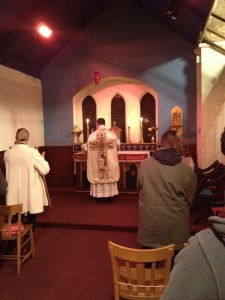 9.30am Mass
5.15pm Evening Prayer
Tuesdays
9.30am Morning Prayer
7.10pm Evening Prayer at Holy Trinity 
7.30pm Mass at Holy Trinity 
Wednesdays
7.30am Morning Prayer at Holy Trinity
9.30am Mass
5.15pm Evening Prayer at Hornsey Parish Church
Thursdays
9.30am Morning Prayer
6.30pm Evening Prayer
7.00pm Mass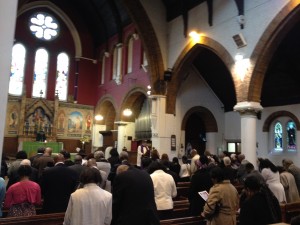 Fridays
7.30am Morning Prayer at Holy Trinity
Please check the News Sheet for other services that follow the Church's calendar.
HI Kids is especially for children.
Provision is made for Children at our Sunday morning Mass. Activities are specially planned and designed around the Church Year and seasonal activities are also provided.
Here is some of their work that they like to share with us at the end of mass.