Hail Mary, full of grace, the Lord is with you…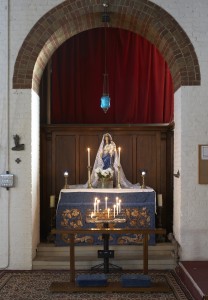 The Cell of Our Lady of Walsingham meet regularly to pray and reflect on issues around Mary, the world, and the Shrine at Walsingham. Our joint parish group with St Paul's Church, Haringey and Holy Trinity Church, Stroud Green numbers around 30 members, all of whom are very active within our Cell group.
Part of the responsibilities of our Cell is to look after all the Statues and Altars of Our Lady in and around Holy Innocents (as well as St Paul's and Holy Trinity). Such care and devotion is a requirement of the Cell group to ensure that others may look to Mary as chief among all the saints.
The Objects of the Society are
To honour Mary, the Mother of God and to deepen faith in the incarnation of Our Lord.
To promote devotion to Our Lady and pilgrimage to Walsingham.
To further, with the aid of Our Lady's prayers, the conversion of the nations and the re-union of Christendom.
To seek holiness of life through prayer, the scriptures and the sacraments.
Members of the Society are asked to say the Angelus each day.
Membership of the Society
Membership is open to all who have been baptised.
The joining fee is £10.00, for which a new member receives the Society's badge, membership card and the current edition of the Walsingham Review. The joining fee also covers the first year's membership. Thereafter there is an annual subscription of £10.00 to cover the cost of receiving the Walsingham Review, the Society's magazine.
Details of each member's name and address are recorded on a database at the Shrine.
A lamp burns in the Holy House for the Society and the Society is mentioned in the intercessions each day at Shrine Prayers. A monthly requiem is offered at the Shrine for
departed members of the Society; their names are recorded in the Walsingham Review, the magazine of the Society and of the Priest Associates of the Holy House, in thanksgiving for their life and pilgrimage witness.
Members of the Society are able to unite themselves more closely with the Shrine's work of intercessory prayer by joining the Living Rosary of Our Lady of Walsingham.
Please speak to the Cell Secretary Brenda Barwick  for more details about the group. All are welcome to join!
Pilgrimages to Walsingham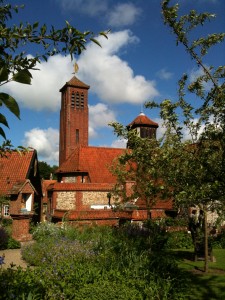 Our parishes go on pilgrimage to Walsingham regularly throughout the year, including the annual Bible Week.
The National Pilgrimage in May is very important to us and we make a special trip to join with other members of the Society from around the country to spend the day at the Shrine.
Do look out for future trips to Walsingham! .