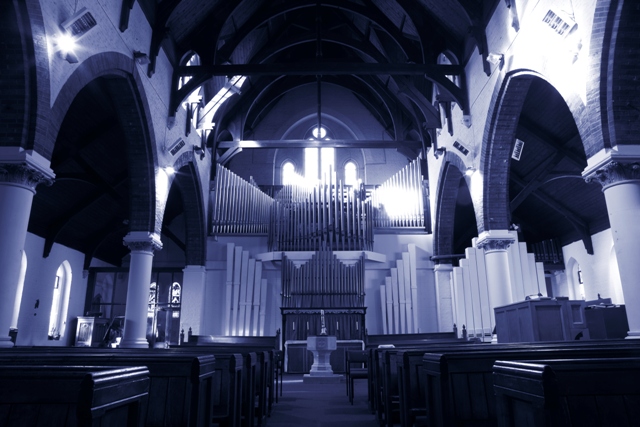 How Far Can Organ Music Travel? Over 3,500 Miles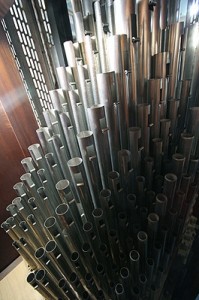 You can hardly miss it. Enter the church and you can't fail to notice hundreds of pipes reaching up to heaven in a spectacular display of musical engineering.
In 2001 Gilbert Reines heard about a Canadian Rieger-Kloss Krnov pipe organ that was looking for a new home. It was a chance encounter and conversation that took place in Toronto.
The conversation led to a two-year plan to ship hundreds of pipes 3,500 miles, re-assemble them, and start the long process of installing it into Holy Innocents.
Funds were raised and the organ dismantled and shipped. The parishioners joined en masse to bring the pieces of this 40-foot instrument into the church.
The scale of the project
Takes a bit of imagination: 3,000 pipes were assemblied into 52 ranks. Some pipes were 16 feet in length and 18″ in width. Heavy chests were lifted into the church that support the pipes.
Other components presented similar challenges. In one sense it was a giant jigsaw puzzle that needed the keen eye of Gilbert and his nephew, an organ builder by trade.
By the end of July 2003 Gilbert had some of this giant instrument reassembled and it was time for the bishop to bless this new acquisition.
Getting the Sound Right
Moving an organ from Canada to North London is one giant logistical exercise. Getting it to sound right is quite a different challenge. Various additional pieces were needed and Gilbert contacted firms all over the world to source the pieces he needed. The Redundant Rehoming Organisation based in Wales found some of the material he needed.
In one of those strange twists in events, some parts were found from an organ that had originally been just a few miles away – in the church of St Saviours, Alexandra Palace.
By 2004 the organ was 95% complete.
"If you think of an organ as an orchestra, all the major sections such as strings and brass tones are now in place." Gilbert told a local reporter at the time. Now, only the smaller instruments within some sections needed finessing.
As a recital instrument, its use for liturgical church music required some modification. The original 35 ranks of pipes needed increasing to 51 ranks. Some of these ranks were needed for additional pipes from St. Saviour's Church, Alexandra Park, a Lye organ from Toronto and additional reeds from the United States.
Standing in front of this massive piece of musical architecture, you are confronted by a gallery that features silver tin pedal pipes of the Great Principal on the left and copper pipes of the Pedal Octave to the right. In the centre are the Gunmetal pipes of the Large Principal. Below these are facade pipes covering the choir swell box and on the extreme right at ground level are the large 32ft Contra Bourdons and the 16ft Open Wood of the pedal organ.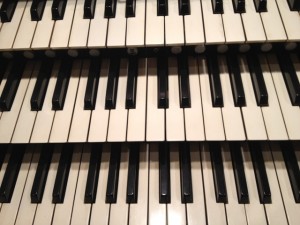 The action is controlled by a mobile detached three-manual and pedal console with drawstops, electrically connected to the organ.
Fr Tim Pike (Vicar 2004-2016)  says that, "What struck me when I first moved to the parish was the sheer scale and commitment of the parish to this project. They have done all the work to acquire an build it. It really adds an authenticity to our services."
The Rieger Kloss pipe organ may have found a new home but maintaining such a fine instrument is never-ending. "There is always fine-tuning to be done," says Gilbert. And his reason for such a commitment?
"I think that when you're part of a community, it's important to leave a place better than you found it."
Our thanks to everyone who made this masterpiece happen and especially Gilbert for his vision, patience and sheer determination to make our music glorious and on such a grand scale.