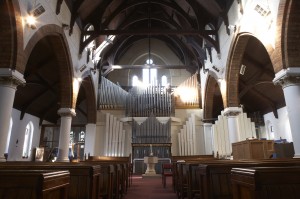 O sing a new song to the Lord…
Holy Innocents offers lots of opportunities to get involved in Music within worship. Although we don't have a regular choir, we have a group of singers who meet throughout the year to provide music for Christmas, Holy Week & Easter, regular Choral Evensong, and a Requiem Mass on All Souls'.  If you are interested in singing and would like to join us then please look out for when we next advertise for help. All are welcome to join us!
We would also like to know if you play an instrument too. The Psalmist tells us that we are to use all our musical talents to praise God's holy name. We are very interested in using instruments in worship, especially at Christmas and for some of our Taizé style services.
If you would like to sing the Psalm on Sunday mornings, or find out more information about other musical opportunities, then please speak to Fr Ben, our Parish Priest, or to Gilbert, our Organist.