Holy Innocents is the Church of England Parish Church for Hornsey and Crouch End.
Our congregation is a vibrant mix of ages and backgrounds. Our services are in the Anglo-Catholic tradition and everyone is welcome to come and worship.
Due to the ongoing Coronovirus (COVID-19) situation, our Archbishops have advised us to temporarily suspend public worship at Holy Innocents and the church building is now temporarily closed. In the meantime join us for Mass at 10am on Sundays from our Facebook page. You don't need an account or to sign in to watch.
Please click this link for a Liturgy to pray at home. By praying this liturgy at home you will be joining the rest of us in prayer.In this time when we cannot pray together, it is still important to pray.
Mass will be said at 9.30 each week day from the vicarage streamed from our Facebook page.

Together with our sister church of Holy Trinity, we normally have daily Morning and Evening Prayer and Mass, as well as regular study groups. Our Sunday Mass is usually at 10am. We hope the church building will be open again soon so you can come and see!
We are strongly committed to serving our neighbours and are enthusiastic about our work with local schools and community groups, especially our involvement with Haringey & Enfield Homeless Respite.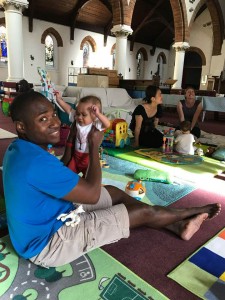 When the building is re-opened you may also be interested in coming along to Little Innocents, our Stay and Play every Tuesday in term time from 10-12. We also have a Community Coffee Morning every Wednesday at 10.30.
Innocent Reflections
Each week we publish a blog post with a reflection on what's going on. You can read the latest one here: Innocent Reflections Latest Blogs . You can also subscribe on the link to get these blog posts by email.
Safeguarding Statement
Holy Innocents believes that safeguarding is the responsibility of everybody and is committed to safeguarding and promoting the welfare of all those who are vulnerable (children, young people, vulnerable adults).
We expect all of our staff, volunteers and those who use our premises to share this commitment and value the support of those who worship here in achieving this.
You can see our safeguarding policy by clicking on this link:
Promoting a Safer Diocese Final – (Nov 2018) (1)
If you have any concerns, please contact our safeguarding officer, Brenda Barwick: brenda.barwick01@btinternet.com; 020 8340 5382.
Useful Phone Numbers: Diocesan Safeguarding Officers: Annette Gordon: 0207 9321124; Maggie McMahon: 0203 8375101; CCPAS Helpline 0845 120 455