Wine & Theology: Discussion Group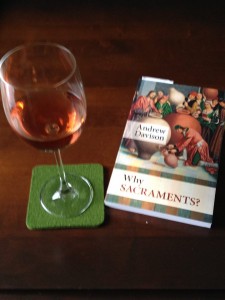 Wine and Theology is a group for adults who want to talk in greater depth about faith and theology. It is a group which provides an open space to build relationships with each other and with God, to explore the meaning of life, and to clarify what it means to be a Christian in the 21st Century and how this affects who we are and what we do.
 Wine and Theology firstly tries to be enjoyable! We find that wine and food aid our discussions and make our meetings pleasurable and relaxing occasions. Secondly, we try to have sensible and intelligent conversations about what we have read, providing an opportunity to explore Christian faith in an informal, relaxed, friendly atmosphere.
We meet on the first Wednesday of each month from 8.15-9.30pm. Check out the News Sheet for details of the next session!