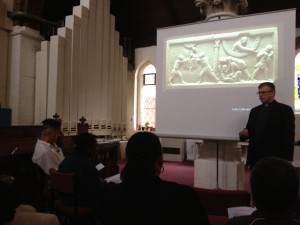 Short courses are offered on Wednesdays during Lent and Advent, which provide discussion and reflection on topics such as the Bible, faith, prayer, vocation, literature or art.
All our discussions are based around understanding what we read and sharing our views together.
Wednesday mornings after Mass at Holy Innocents is a place where you can to develop and deepen friendships – fellowship. It won't be all study and serious discussion. We normally meet over tea and cakes! We try to encourage one another and to learn together.
Our aims:
1. Understanding
You will be able to learn more about the Christian faith. You can ask questions, discuss answers, share doubts without embarrassment, because everybody is learning together.
2. Encouragement
Our Study Group is a place of encouragement. It's so easy to become discouraged in our faith, and we all feel that our faith is too simple and that everybody else is managing to live the Christian life except us! You will soon discover that we are all have to depend on God to get us through.
3. Spiritual Growth
What we learn and the encouragement we receive from each other can be just what we need to continue growing spiritually when the difficult times come. Sometimes, even when we know that God is always with us, it is still good to have someone else remind us that it is true. We tend to grow most when our faith is tested or when life is tough. Therefore it is important to have friends' encourage to keep going.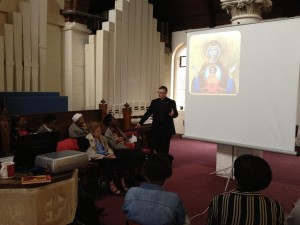 If you are interested in coming along, please do so – we would love to see you.  All are welcome to join!
Please see our weekly newsletter for more details.