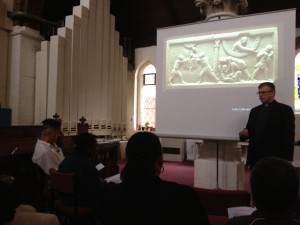 The Wednesday Study Group meets after the 9.30am Mass most weeks. We are a large and friendly group who meet regularly to discuss and chat about a book, the Bible, an aspect of faith, or art.  All our discussions are based around understanding what we read and sharing our views together.
Wednesday mornings after Mass at Holy Innocents is a place where you can to develop and deepen friendships – fellowship. It won't be all study and serious discussion. We normally meet over tea and cakes! We try to encourage one another and to learn together.
Our aims:
1. Understanding
You will be able to learn more about the Christian faith. You can ask questions, discuss answers, share doubts without embarrassment, because everybody is learning together.
2. Encouragement
Our Study Group is a place of encouragement. It's so easy to become discouraged in our faith, and we all feel that our faith is too simple and that everybody else is managing to live the Christian life except us! You will soon discover that we are all have to depend on God to get us through.
3. Spiritual Growth
What we learn and the encouragement we receive from each other can be just what we need to continue growing spiritually when the difficult times come. Sometimes, even when we know that God is always with us, it is still good to have someone else remind us that it is true. We tend to grow most when our faith is tested or when life is tough. Therefore it is important to have friends' encourage to keep going.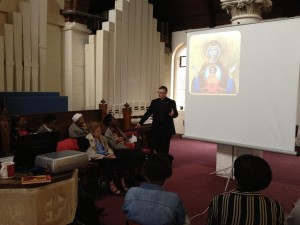 The Wednesday Study Group is a well organised and group that provides lots of opportunity for people to share in planning and organising the material.
Recent books and discussions have included:
The Nail: Being part of the Passion by Stephen Cottrell
Tokens of Trust: An Introduction to Christian Belief by Rowan Williams
Ponder These Things: Praying With Icons of the Virgin by Kallistos Ware, Rowan Williams
The Virtues Pope Benedict XVI
A series of 10 talks on 'Holy Women' by various speakers
And lots more…
If you are interested in coming along, please do so – we would love to see you.  All are welcome to join!
Please see our weekly newsletter for more details.