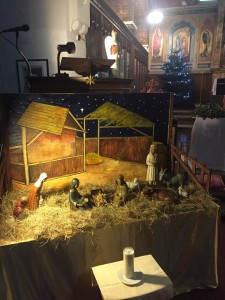 You are warmly invited to come and celebrate the birth of Jesus this Advent and Christmas at Holy Innocents
Hear the good news of great joy of the angels and discover more about Jesus through scripture and carols.  As well as our regular services come and join us at our:
'Christingle' service especially for children at 3pm on the 15th December
Carol service  at 6pm on the 22nd December
Christmas Eve Children's Crib service (with a donkey!) at 4pm on the 24th December
Midnight Mass at 11.30pm on Christmas Eve
Mass on Christmas Morning at 10.00am
No ticket is required, seats are unreserved and everyone is welcome – especially if it is your first time at Holy Innocents.